Anyone else tired of election day craziness?  Let's change the subject and talk about babies!  🙂
How far along:     14 weeks.  I've officially reached the second trimester, also known as the honeymoon stage of pregnancy.  I'm SO looking forward to getting over this nausea and to maybe even feel a bit more energetic.  Bring it on!!
How big is baby:  This week, Spring Baby is the size of my fist.
 Total weight gain:   Three pounds so far…. many more pounds to go.  Ha, ha!
 Gender:  The anatomy scan is scheduled for three days before Christmas!!!  That's going to be the BEST Christmas gift ever!  🙂
Name:  We're throwing around a few ideas, but we haven't settled on anything that we love yet.  Last time, Brady's name just came to us, and it fits him perfectly.  I'm guessing the same will hold true this time around.
 Maternity clothes:   Not yet.  I did go up a size in my jeans, because my stomach is bloated ALL the time.  Ha, ha.  My belly is popping a bit, I think; but I can't tell what's baby and what's too much pizza.  😉  Thankfully, flowy tops are in style, so I've been wearing loose tank tops and T's with cardigans most of the time.
 Sleep:   INSOMNIA!!  I didn't have insomnia during my last pregnancy until the third trimester, but it started early for me this time around.  If I wake up at any point during the night, it usually takes me over an hour to fall back asleep.  Sometimes, I'll lie awake for hours.    It's no fun…
 Best moment of this week:   My ultrasound on Monday held nothing but good news, which was such an answer to prayer.  (I hadn't realized that I was nervous until I was told that the baby is growing as it should and that the heartbeat is strong.  I was SO relieved). The technician caught this beautiful picture of Spring Baby sucking his or her thumb.  (You guys, I'm in love already with this itty-bitty baby)!
Awkward moment this week:  I actually didn't have one, thank goodness!
Purchases: No baby purchases yet…  I think I'm going to wait until we find out the gender.  If it's a boy, I'll already have most of the things I need.  My bestie Liz did give me a Motherhood Maternity winter coat though, which is going to save me from having to make a $50-$150 purchase!  And my bestie Ashley informed me that she's buying me the baby carrier I wanted.  So those are two things that I was able to check off my to-buy list this week… without having to spend any money!  (Yeah, my friends are pretty awesome).
Miss anything:  I miss being a foodie.  Ha, ha!  I know in my head that I should enjoy more things than I do, but the aversions are just way too strong.  Hopefully that'll end soon!  It's tough eating well, when I'm disgusted by so many meats and veggies.
Movement:  Nothing yet.
Exercise:  I've been taking tiny walks around the neighborhood with Brady pretty faithfully.  As I begin to feel better and can handle longer walks, I hope the weather cooperates.  I also chase after my toddler all day long, and we do a lot of dancing throughout the day (which is one of Brady's favorite activities).  So I stay pretty active.
 Food cravings:   Hotdogs.  *sheepish grin*  I've been repulsed by meat for weeks now, but – the other day – I found myself craving a hotdog topped with a TON of mustard and relish.  I found these Applegate, no-nitrate hotdogs at the store and made sure I cooked them thoroughly.  It was sooooo good!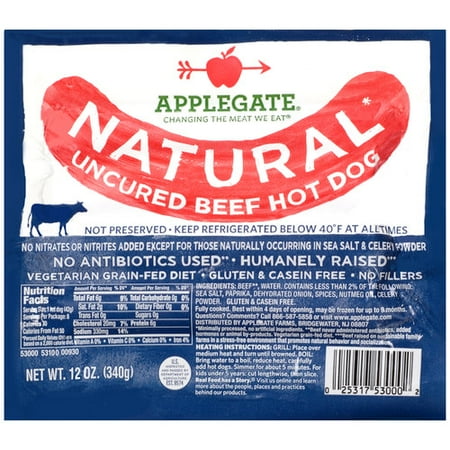 Anything making you queasy or sick:     Breathing.  LOL!  I'm still pretty queasy most of the time, but I do think it's starting to get a little better.
Symptoms:  Nauseousness.  Insomnia.  Nose bleeds.  Food aversions.  Exhaustion.  Shortness of breath.  Indigestion.  Bloating.  Pretty much every pregnancy symptom in the book.  🙂
 Have you started to show yet:  A little bit, I think.  But like I said, I'm soooo painfully bloated that it's hard for me to really figure out what's actually the baby belly and what's gas / water retention.  (Is this TMI?  Yeahhhh, probably…).
Final thought:  God bless the USA!!!